PDF-XChange Editor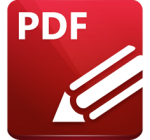 207,13 zł brutto
168,40 zł netto
| | |
| --- | --- |
| System operacyjny | Windows 2000, Windows Vista, Windows 7, Windows 8, Windows 8.1, Windows 10 |
| Licencja | na wersję programu |
| Forma licencji | elektroniczna |
| Sposób dostawy | poczta e-mail |
| Koszt dostawy | 0 zł |
| Czas realizacji | 1 dzień |
| Strona programu | http://www.tracker-software.com/product/pdf-xchange-lite |
| Polska wersja | tak |
Opis programu
PDF-XChange Editor - to doskonałe rozwiązanie firmy Tracker-Software do tworzenia plików PDF zgodnych z standardem Adobe. Dzięki temu programowi Pliki PDF można tworzyć praktycznie z poziomu każdej aplikacji działającej pod Windows.
PDF-XChange Editor jest uproszczoną wersją oprogramowania PDF-XChange Editor Plus. Wszystkie zaawansowane funkcje zostały wyłączone, wyłączono również wszystkie dodatkowe narzędzia dostępne w wersji Standard (MS Office Addin oraz konwersja w trybie wsadowym Office2PDF). Jest to idealne rozwiązanie dla użytkowników domowych, małego biznesu i wszystkich tych, którzypotrzebują prostej, ale wydajnej metody tworzenia plików PDF. PDF-XChange Lite korzysta z wielokrotnie nagradzanej technologii tworzenia najmniejszych, możliwych plików PDF.

Generalnie program przeznaczony jest dla każdego, od użytkowników domowych po duże firmy i korporacje. Jednym słowem dla wszystkich, którzy chcą przejrzeć, modyfikować, zmienić plik PDF.